Extraordinary Reach And Results.
With such a valuable asset, the journey to "SOLD" can be emotional and mentally taxing. I will lead and guide you through the numerous strategic initiatives that must be addressed to pave the way to a successful sale—from digital marketing strategy, remodeling/upgrading, pricing, pre-market exposure, agent outreach, open houses, to many more.
Innovate Your Marketing
My marketing and selling strategy sets me apart from the rest. The journey to sell your home is 100% about YOU. I'm here to strategize and listen to your needs and goals so I can best help you achieve them! I 💖 guiding and advising our clients from day 1 until years after the closing day.
How To Sell Your Home Faster
Are you thinking about selling your home, or are you in the process of doing so? Learn what can you do to make sure you attract as many potential buyers as possible and increase your chances of making as much money as possible from the sale of your home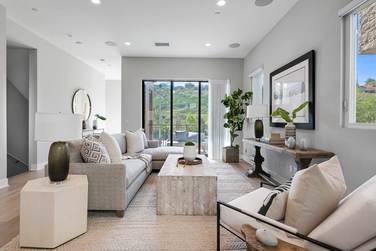 Upsize into a bigger home
Free Seller's Guide
Comprehensive Real Estate
Seller's Guide
"Daniel made our experience buying our home extremely smooth, and we would recommend him without hesitation. He went the extra mile many a time to accommodate the various requests that moving a family of 5 entails. Professional, courteous, extremely responsive and thorough are the attribute that best describe Daniel ... Plus he is a basketball fan 🙂 Thank you Daniel for your help l!"
"We moved from Minnesota to Los Angeles in a very competitive market and Daniel kept me informed of new listings, met me in town to show me multiple neighborhoods, and really never gave up even when I felt like doing so. He is a true professional and I would recommend him without reservation to anyone. We are very happy with our new home."
"Daniel was a great help to me when I was in the market. I hadn't purchased a home in some time and he was patient with me and all my questions. When in escrow he helped greatly to get the needed info to the lender as well. That was above and beyond the call. I would recommend him to friends and family buying property anytime."
"Daniel did an excellent job in leading the sale of our home. He was able to quickly close the sale (required only one weekend open house) and achieved a record sales price. Throughout the process he was very helpful providing advice and responding immediately to all questions (even during his scheduled vacation)."
"Daniel was a pleasure to work with. He is very knowledgeable and makes the process of home buying fun! Daniel is familiar with many areas and does a good amount of research to ensure you don't waste time. He was a pleasure to work with."
"Daniel was very patient with my wife and I as we were very specific as to what we were and were not looking for. He delivered for us and if/when we decide to sell and/or buy another place, he's our first call."
"Quick to respond and very helpful - a pleasure to deal with."
Selling is easy as 1, 2, 3!
Let me help simplify your home selling journey…
Schedule a call
Schedule a one-on-one, no commitment consultation.
Create your plan
I will create a custom step-by-step plan that will get you the best deal on a new home.
Realize your goals
Decide if you want to hire me or do it on your own. Either way, you'll have the winning plan.